Some events in Denmark July 2015.
The Saga Oseberg viking ship.

July 2015 the magnificent replica of the Oseberg Viking Ship visited Roskilde on its first longer voyage from Norway, to do a week of sailing testing and experimenting in the Roskilde Fjord.

We took a photo series of this grand ship.

Video clip, the Oseberg ship departs from Skagen towards Roskilde.

Video clip of the Oseberg ship arrival to Roskilde.

A couple of notes about the Oseberg visit on the Roskilde Viking Ship Museum facebook.


There's a story to this ship:

The ship was built 820 in Norway, put in the burial mound in Tønsberg 834 and was found and excavated 1903-1905.

1987 a replica of the ship was built, which on its very first trial run sailed itself straight to the bottom of the sea after 20 seconds in water! Fortunately all crew survived. After that experience, many scientists were of the opinion that the ship was built for ceremonial use only, and not for real use at sea.

However, the original ship found in the mound did show very distinct traces of heavy use, so in 2004 a new project for reviewing the ship all over from scratch was started up with a Norwegian team from Tønsberg in collaboration with a Danish team from the Roskilde Viking Ship Museum. Every piece of wood from the original find, and every piece of documentary note from the excavatation was restudied very carefully, and it turned out that grave errors had been done with the 1987 replica. Each and every centimeter and detail everywhere in the ship counts and can be crucial.

A new replica was built, this time extremely carefully, using viking tools only, and everything exactly as found in the original. Planks were even lashed together with baleens as they were in the original. And while they were at it, all carvings and ornamentations were done most accurately; even a Viking sailor's grafitti carving under a board, depicting a wolf, horses and a ship's bow, was done on the replica as found in the original.

2012 the new replica was launched, and this time certainly without sinking. This time it doesn't sail itself down the water but elegantly lifts its bow at some speed. July 2015 the ship went on its first longer voyage, to Roskilde, Denmark, for the scientists to do a week's testing and experimenting in the Roskilde Fjord with the ship and sailing techniques. In the first trial runs it appeared a bit heavy in the beat, but after 500 kg ballast was moved from the back to the middle of the ship, it beat up against the wind like a dream.

The captain told a visitor that they beat up to 65 degrees against the wind, and always at full speed. As the ship has no side drift keel, speed is what keeps the course against the wind.
Nyborg Medieval Market.
Nyborg Medieval Market photos.
Trelleborg Viking Market.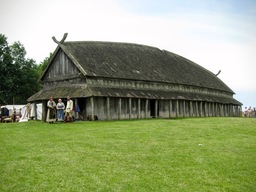 Trelleborg Viking Market photos.
Land of Legends, Viking Market.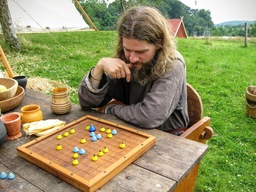 Land of Legends photos.
Many legends tell of Danish kings in prehistoric times seated in a location called Hleithr, the prehistoric capital of Denmark from before year 500 until about year 1000 when the town Roskilde was founded as the king's new seat. (About 1450 the king's seat moved on to Copenhagen). In addition to Danish prehistoric legends, Lejre is also mentioned in historical sources abroad.
The legends point towards a location 9 km from Roskilde today called Lejre, and as it happens, in Lejre is found one of Scandinavia's largest ship settings, 83 metres long. Yet it was for a long time fashion among Danish archaeologists to write off the legends and Lejre as pure myths. Until 1997, that is, when a 48 x 11 metres king's hall from about year 550 was found in Lejre, and later it turned out to be one in a complex of several large buildings. 2009 also a fine silver figurine made about year 900 and depicting Odin on his throne with his two ravens was found in Lejre.
In Lejre continued to be a magnate's seat with names like Lejregård, today Ledreborg and looking like this:
Ledreborg.
In the very landscape of the legendary kings was 1964 founded the Centre for Historical-Archaeological Research, today called Land of Legends. There you find fx. an authentically reconstructed iron age village, inhabited by volunteers, and a reconstruction of the Lejre ship setting, built authentically by manual power. In near future also a reconstruction of the found Lejre king's hall will be built there.
The place is a centre for experimental arhaeological research. They've built also a bronze age burial mound authentically by manual power (large stones). And they've built iron age houses and let some burn and others just decay over time, to compare the result with found archaeological traces.
Land of Legends.
Year 500-1000; so Hleithr has seen a lot of Hnefatafl played!
By the way, experimental historical research has much to do with the work the tafl players' community does on this site, besides enjoying the games. I once wrote a forum note about that:
A comment about testing of rules.
Køge Medieval Market.
Køge Medieval Market photos.