Re: About the draw concept
Posted: Thu Feb 09, 2012 4:20 pm
Adam wrote:Further thought on the logic behind allowing and disallowing certain forts leads me to suggest the following refinement:

White win draw fort: Any draw fort that has contact with the board edge and a mobile king contained in its structure, the king having contact with the board edge. i.e. white has built a safe, defended escape route from the board, which would still be impenetrable with the king having escaped. Or more elegantly: If the king has contact with the board edge, is able to move, and it is impossible for black to capture him, white wins the game.
Just had an interesting test game against Oddur. White managed to build the edge fort - but it was not possible to create space for the classic fort with 4 edge squares. Only 3 edge squares were vacant, just what's required for the type of fort, Adam suggested.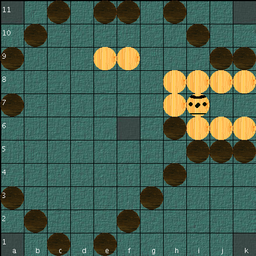 I meet opponents who suspect that it's now
too easy
for white - a good question! Earlier white against a strong opponent often faced either a quick win or a quick death; the only emergency exit in practice being the rare perpetual check or the now (supposedly) canceled center fort option. There've certainly been cases where my whites could use some extra help for a second chance. But hopefully some serious test games can judge on that.
In my opinion the edge fort however is for advanced players. Very difficult. The details can seem a bit academic, as the test games so far still suggest that the edge fort end game is rare.