Search found 446 matches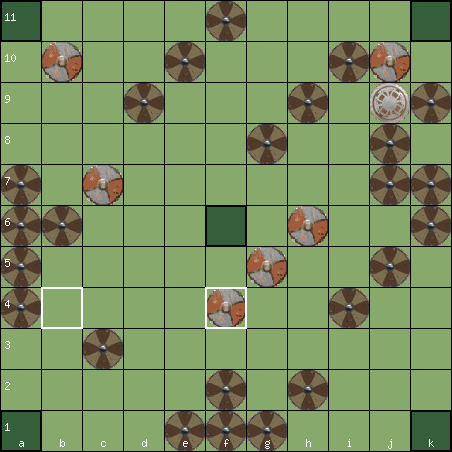 Copenhagen Hnefatafl. Black's next move determines the game and black wins. How?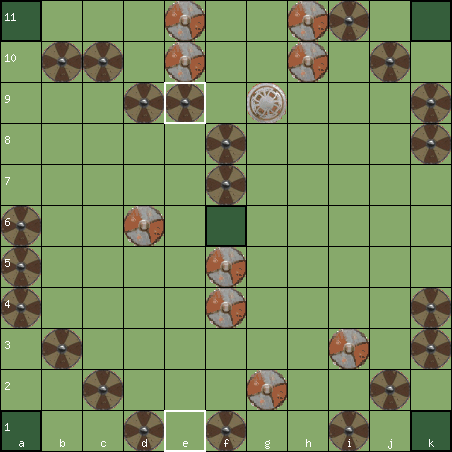 Copenhagen Hnefatafl. White wins in 4 moves. How?
by Hagbard

Tue Jun 06, 2017 10:19 am
Forum: Other
Topic: Home-made tafl games
Replies: 1
Views: 561
Christian Busch blogged about a new tafl game of his: http://pimpmyboardgame.com/?p=1948 Interestingly, the leather board from The Merry Merchant is decorated with burnt in Viking ships for starting positions of attackers. On the present site we have sometimes discussed that the tafl game might simu...
by Hagbard

Thu May 25, 2017 12:10 pm
Forum: Other
Topic: Tafl in Ukraine
Replies: 3
Views: 905
They're creating three clubs in Ukraine for Medieval games and firstly Hnefatafl. The idea of Medieval Games clubs with Hnefatafl as one of the games could be fruitful, attracting a larger public than merely Hnefatafl clubs. Solely Hnefatafl clubs were tried in Tromsø, Norway, and in Burnsall, UK, ...
by Hagbard

Thu May 25, 2017 11:47 am
Forum: Other
Topic: Tafl in Ukraine
Replies: 3
Views: 905
The event Scandinavian Night was held May 20th 2017 in the National Museum of History in Kiev. One of the popular events of the evening was demonstration and playing of Hnefatafl, and more than 14 very interested young Ukrainians attended. The rules used were "Old Hnefatafl", which has traditionally...
by Hagbard

Thu May 25, 2017 1:57 am
Forum: Rules
Topic: Tawlbwrdd 11x11
Replies: 16
Views: 9421
May 22nd, Jarl Herjan on Facebook, photo of a fine tawlbwrdd board 11x11 with throne and no corners, and diamond-Bell setup, just as we recommend it here. But also with a dicebox and six dice, and the comment This is my new Tawlbwrdd (Welsh Tafl) which I had designed. In addition I have come up with...
by Hagbard

Tue May 23, 2017 3:16 pm
Forum: Other
Replies: 1
Views: 642
The University of Copenhagen held a most successful BGCXX May 17th-21st 2017. A two-storey auditorum full of amiable board game enthusiasts, mostly high level university people - researchers, PH.D's, professors; about 55 participants from Australia, Europe and USA; much of the time parallel lectures...
by Hagbard

Tue May 23, 2017 8:59 am
Forum: Rules
Topic: Alea Evangelii 19x19
Replies: 42
Views: 16779
22.5.2017 "Tuireann" and "Fishbreath" has an interesting discussion about Alea Evangelii 19x19 on the Play Tafl Online forum (http://www.playtaflonline.com), the full discussion copied here: Tuireann : So, I don't think Alea Evangelli is a tafl game anymore at all. I have been doing some translation...
by Hagbard

Sat May 13, 2017 3:43 pm
Forum: Rules
Topic: Skalk Hnefatafl 11x11
Replies: 6
Views: 3533
April-May 2017 we had another go at testing Skalk Hnefatafl 11x11. The game balance measured from this test tournament alone was -4.00 (30 games). March 2013 we had a first test tournament of Skalk 11x11, resulting in a measured game balance of -3.97 (72 games). Calculated from all Skalk 11x11 games...