| | |
| --- | --- |
| Artist: © Rasmus Holbroe (Jan. 2016). | |
More links to information on the Viking board game Hnefatafl.
Museums about the Viking Age:
Some societies and sites interested in history, Vikings and the board game Hnefatafl:
Hnefatafl in Berlin.
28th of November 2013 in Berlin there was a hnefatafl demonstration match between a Norwegian chess player and a German hnefatafl player.
See blog article about the event here.
- And not least: Rene Gralla's report from the day with photos!
19.12.2013 Rene Gralla sent this information about a recent column in the Norwegian chess magazine Verdens Gang:
THE NEWS: Norwegian people have now learned that chess may not be a product from India (BTW, the author of the column nonchalantly talks of "Persia" in this context) but that chess may be a pure Scandinavian brand in the first place ... since the the roots of the Chess of the Vikings, that famous "Hnefatafl", that date back to LATRUNCULI which was the ancient strategic game of the Roman soldiers and which was much older than the proto-chess Chaturanga from India.
The foregoing fact has been the leitmotiv of a column on chess that has been published by Simen Agdestein in the No. 2 (!!) of the tabloids of Norway - called VG (that means: "Verdens Gang") - on last Wednesday, December 11th, 2013.
The chess columnist Simen Agdestein - who is very close to the new World Champion Magnus Carlsen - reports on his first own experiences with Hnefatafl ... and then adds some information on the "8th International Ladies Chess Gala" that had been organised by the German daily "neues deutschland" at Berlin on November 28th, 2013; as part of the program of the event Norway's WIM Silje Bjerke had played an exhibition game of Hnefatafl.
- And here a scan of the column.
Hat tip: Rene Gralla.
Interview with Silje Bjerke, Damian Walker's blog.
Hnefatafl at Tromsø - article in German media.
The German weekly "Schleswig-Holstein am Sonntag" has published on Sunday, November 3rd, 2013, an interview with Frank Prohl, the organizer of the Hnefatafl tournament at Tromsø in Norway 2014.
See the article here: Wikingerschlacht in Miniatur.
19.5.2014 Rene Gralla sent this article from the Germanan newspaper FLENSBORG AVIS:
great news today, there is some extra promotion for HNEFATAFL at the Chess Olympiad 2014 in media of the border region ... since the FLENSBORG AVIS that publishes articles both in Danish (!) and German, has now published my German-language version of the interview with Frank Prohl who wants to bring back the Chess of the Vikings to the Norwegian people!
- See the article here.
Hat tip: Rene Gralla.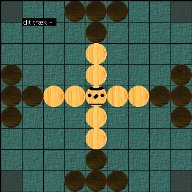 Updated 16.9.2022
Copyright © 1998-2022 Aage Nielsen, All Rights Reserved;